Talk of Jordan Brand's demise have been greatly exaggerated, even if it pains me to say that. The brand is still doing big things, and 2018 has been consistent release after release. Off-White, Levi's, Travis Scott, and Black/Cement IIIs—what more do you people want?
We're already eight months into the year and Jordan Brand is showing no signs of letting up. There are still a handful of hyped releases on the way, and you know the end of the year is always big for Jordan Brand. But as we hit the midyear mark, it's time to reflect on the best of the best right now. And if a Jordan XI doesn't make this list—surprise!—then you know it's a good sign.
Here are the best Js of 2018 (so far).
10. Solefly x Air Jordan XVII Low
The Air Jordan XVII is one of the most controversial sneakers in the line. It retailed at $200, came in a faux-metal briefcase, and caused Foot Locker to stop carrying Nike product for a few years, instead opting for budget-friendly footwear. It doesn't make it any less of a great sneaker, but it's associated with Jordan's run with the Wizards, not the Bulls, and doesn't have the same nostalgia around it. The past few years have seen the sneaker return, and this time it came in the form of a collaboration with Miami's Solefly, which is owned by Michael Jordan's brother-in-law, Carlos Prieto. More impressive than the actual shoes was the rollout, which saw custom pairs given to MJ himself, amongst others. Hard to beat that.
9. Air Jordan X "Shadow"
The Shadow Air Jordan X doesn't have a long retro history like other models. It was re-released in 2008 with the rest of the Countdown Packs, coming in a two-sneaker set with the "He Got Game" Air Jordan XIIIs. That retro wasn't spot on, and Jordan Brand wanted to do it right this time around. The comeback of the Air Jordan X is appropriate, considering it was the shoe Michael Jordan wore to make his return to the NBA in 1995. A little bit of storytelling goes a long way. You also can't go wrong with a grey/black Air Jordan.
8. Air Jordan III "Tinker"
What could have been. The Air Jordan III is the sneaker that infamously saved Michael Jordan from leaving Nike for Adidas in 1988 and is viewed as, possibly, the best shoe in the line. But this year we saw a look at how the shoe almost looked, courtesy of Nike releasing an alternate version from the shoe's designer, Tinker Hatfield. Most noticeably, the shoes have a Swoosh down the side, which the original version doesn't have. Some people like them, some people don't. Any way you slice it, they had one of the biggest pop culture moments this year when Justin Timberlake debuted a similar version at the Super Bowl halftime show. It even made me say Justin Timberlake is bringing Jordan Brand back. Bad joke, right?
7. Air Jordan III "Seoul"
The Winter Olympics took place in South Korea this year, remember that? One of the biggest highlights of the games wasn't anything that happened during a particular event, but an Air Jordan III that released shortly after the closing ceremony. Jordan Brand flipped its white/cement three into something that's nothing short of awesome. White, red, and blue with a South Korean flag on the tongue. Nothing more needs to be said.
6. Air Jordan 1 "Shadow"
There are a few Air Jordans that will sell anytime they're re-released, and most times those are the Air Jordan 1 and its multitude of colorways, including Shadow, which is grey, black, and white. The quality and shape on the Air Jordan 1 keeps getting better and better, and this version is no exception. You can wear them with anything, and you can wear them into the ground. That checks all the boxes.
5. Air Jordan 1 "Satin Shattered Backboard"
Sneaker brands get a lot of heat, and rightfully so, for not creating product with the female customer in mind. Jordan Brand flipped the script with the Satin version of the Shattered Backboard 1, which first came out in 2015 and had some of the best leather ever. The brand followed them up with a reverse colorway, too. One of the other most sought-after shoes from Jordan Brand lately has been its uber-limited Satin renditions of its Jordan 1s. To switch things up, the brand dropped a Satin version of its Shattered Backboard for the ladies this year. The biggest size was 9.5, so some guys could get them, too. But there were a lot of salty male sneakerheads who had to watch the ladies be flyer than them for once.
4. Travis Scott x Air Jordan IV
Travis Scott is the coolest rapper right now. The Air Jordan IV is one of the best Jordans of all time. Put the two of them together and the result is an Oilers-themed colorway for the shoe that releases later in the month. And they're fucking mint. It's hard to judge shoes before they release, and we typically don't put them on these lists, but we had to make an exception for these. Grab a pair when they drop and feel like Warren Moon.
3. Off-White x Air Jordan 1
The Off-White x Air Jordan 1 from last year was the best sneaker of 2017, and, to some, of all time. Virgil Abloh, the man behind Off-White, has become a legend amongst sneaker fanatics, and Nike continues to tap his influence. The second round of his collaborations haven't been AS good, but they're still great. This year has seen two versions of Abloh's re-designed Air Jordan 1, which is a ballsy statement in its own right. Which is better: White or Carolina Blue? You decide. We're just gonna leave them here.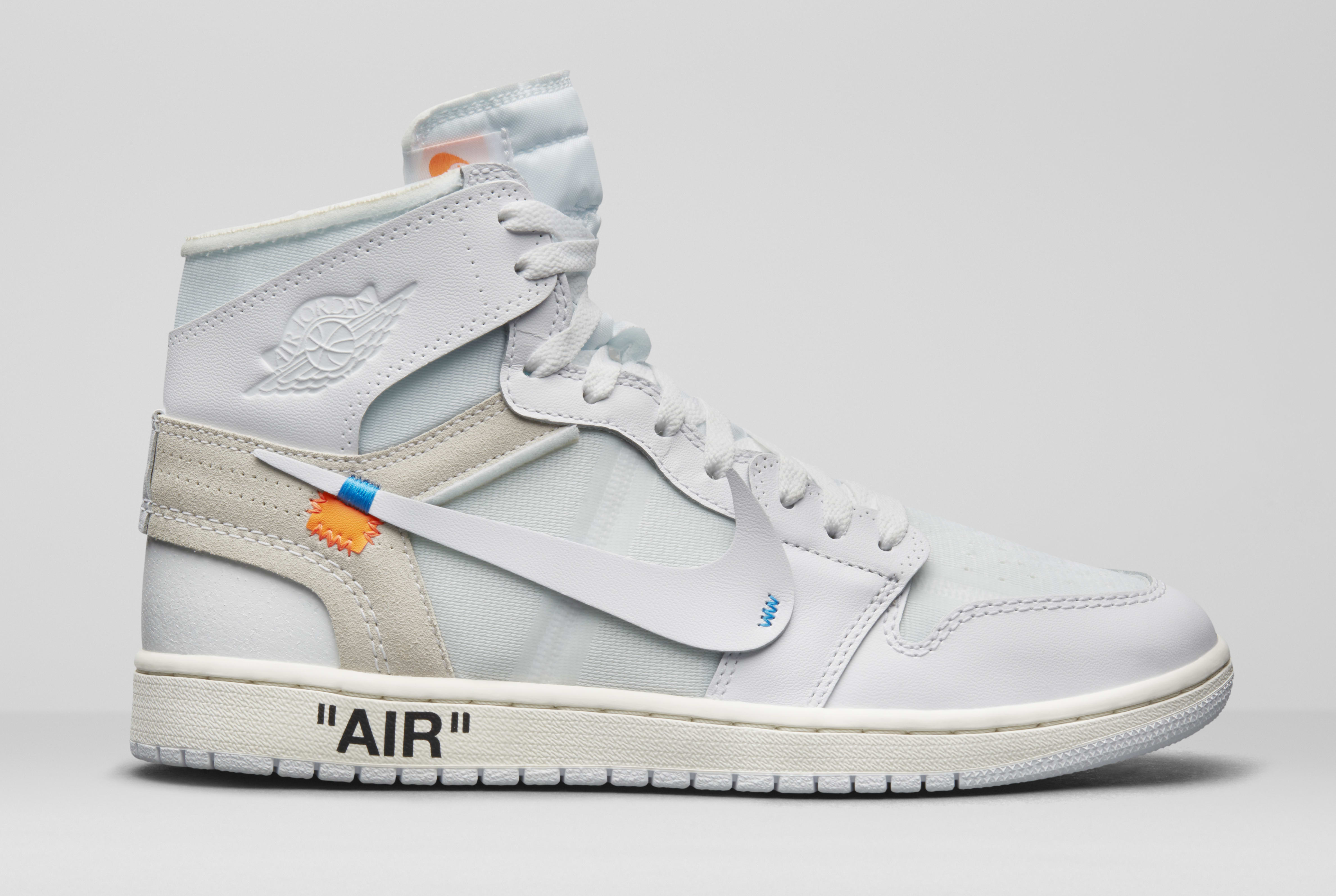 2. Levi's x Air Jordan IV
The funny part about me writing this list is that I don't even wear or generally like Jordans. But I'm an objective person—when I'm not filming Full Size Run—and have to admit that the Levi's x Air Jordan IV is one of my favorite sneakers that I'd never wear. I love denim. So taking a classic shoe design and putting it in raw Levi's denim and it's an easy win. It piggybacked off the Air Jordan 1 mid x Levi's collection from 2008, which was kind of awful, so view this as a redemption run. The Red Tab on the upper is golden. Don't worry about those who hate on the denim on the midsole. Even better, a lot of people customized their pairs, tearing the denim and bleaching them. Some were dope, some not so much. But that doesn't detract from the original design in my mind. For extra cool points, wear your pair into the ground and distress them naturally.
1. Air Jordan III "Black/Cement"
Every time the "Black/Cement" Air Jordan III comes out, it's a big deal. Jordan Brand finally gave you dickheads what you wanted: Putting that Nike Air on the heeltab, a detail that's been missing since 2001. And good luck wearing one of those pairs without them crumbling. This year saw the shoes drop at All-Star Weekend and literally everyone is wearing them right now. It's like a real life Spider-Man meme. I think I counted six people rocking them in the Complex office one day. Saturation aside, the quality is great and it's a shoe you want to wear, wear, wear if you're anyone but me. Shoutout to my former Full Size Run co-host, Rich "MaZe" Lopez, who bought six pairs.